DJ Equipment Hire
Please complete the form to request a quotation for DJ equipment hire and rental. Or call us if you have any questions.
Having a large DJ equipment stock means we have what you need. For sound and lighting equipment and effects for DJs. All your professional DJ equipment rental in one place.
Our DJ equipment is industry standard and is regularly checked to ensure optimum performance at any venue. We carry a large stock of Pioneer and Technics DJ equipment. Providing DJ equipment for local, national and international names and we have acquired a number of great testimonials from recent clients. Take a look at our sound hire page for other sound equipment. All of our DJ equipment comes cased with all the cables and accessories you need.
If you have been sent a DJ rider then we can make sure you have everything for your guest DJ.
Professional, quality and industry standard Pioneer DJ and disco equipment. Make sure your event runs without any problems. We carry a large stock of Pioneer CDJ, DJM as well as Technics 1210 turntables. All our equipment is regularly checked and serviced to ensure it is reliable for you. We can supply disco and DJ equipment for any level at any event.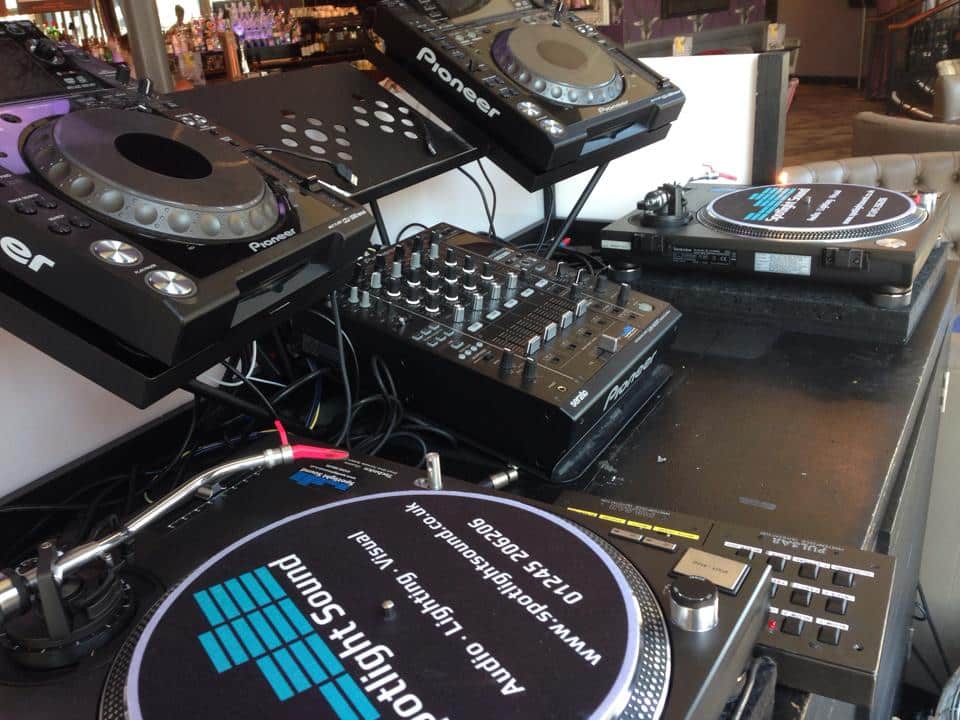 DJ Equipment Rental
Spotlight Sound have provided equipment to many artists and stars over the years. Including MISTAJAM, DJ Luck and MC Neat, Steve Smart, DJ Neev, Toby Anstis, Lauren Pope, Jakki Degg, Diablo V, Example, Mark Ronson, Jaguar Skills, Slipmatt, The Only Way Is Essex cast and many more.
Our DJ equipment is supplied to festivals throughout the summer, and many private events throughout the year. We also offer hire to pubs and clubs across Essex to meet artist rider specifications. Loan equipment can be supplied if you have your equipment serviced with us.
If you have an artist rider, we can help!
Spotlight Sound are able to supply disco equipment on a dry hire basis. All of our decks and mixers come flight cased with all the cabling you need. We can supply sound systems and microphones with the DJ kit should you need them.
If you are arranging an event we can provide complete event production. Staging, decks, with sound systems and lighting.
Pioneer DJ Equipment Rental
CDJ and DJM equipment – Various models in stock
CDJ 2000NX2 (Nexus)
Pioneer DJM 800
DJM 900NX2
DJM 2000
Pioneer DJM 2000 nexus
Rane Serato SL1
Please call us for the latest stock and prices.
Spotlight Sound rent equipment that is always tested and cleaned. We invest in the latest technology and our experienced technicians can help with any questions.
For hire packages including disco lighting, high quality sound systems and other disco equipment just contact us.
To hire equipment of any type, we require three copies of ID. These will be used for simple background checks. If the correct ID can't be provided then a deposit may be charged to cover the value of the equipment.
Hiring equipment is simple and easy. First, contact us with your requirement so we can provide a quotation. Second, confirm your hire. Thirdly collect your hire. Simple. If you need delivery, setup and collection this can be priced separately.
Sound and Lighting Equipment Rental
To compliment DJ equipment we can provide sound systems, lighting, stage and effects. If you are having a party or event we can supply all of the equipment you need to make it a success. For a simple service just tell us what you are planning, what DJs you have playing and any requests they have. We will then provide a quotation with complete break down of equipment and pricing. Our experienced team will make delivery, setup and collection completely stress free for you.