Indoor & Outdoor Stage Hire
Spotlight Sound is based in Essex and provide stages across the country. Our staging sections come in many sizes. They are light and portable, as a result they can be moved up stairs and put in lifts.
If you are not sure what size you need, please speak to our experienced staff. We have worked at venues across the country and can give you the best advice.
All of our stages are installed by our trained staff. We will install steps, ramps and railings where requested.
Custom stage sizes and colours are available on request.
Mobile Trailer Stage Hire
Trailer stages are a great solution to outdoor events, that need a covered platform. They can be setup quickly and in all types of different spaces.
Outdoor, mobile, trailer stages are great for public events, festivals, and private company parties. The platforms are very versatile.
Contact us for pricing and availability on mobile and trailer stages.
Our trailer stages are certified for outdoor use and have been fully tested and approved for windy conditions. When booking a covered stage always check a covered stage has a wind rating and comes with an anemometer.
Prices vary depending on day and location. Our stages come with trained staff to make sure everything is setup, safe and ready. Contact us for a quotation for your event.
How many people will fit on the stage?
The total amount of people on stage will depend on whether you have them sitting, standing or performing. The platform size is 7M x 6M.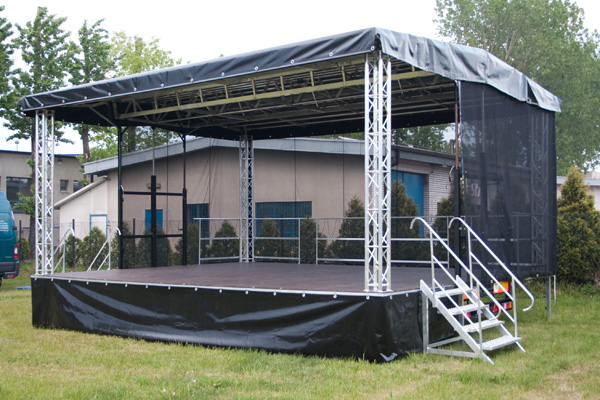 A complete range of deck in metric sizes to make almost any size and shape platform
Aluminium legs and steps to fit our staging at various heights. Custom heights are available on request
Black and white valance skirting as standard in various heights to suit, custom colours available on request
We keep a number of carpet colour options in stock for when plain back isn't suitable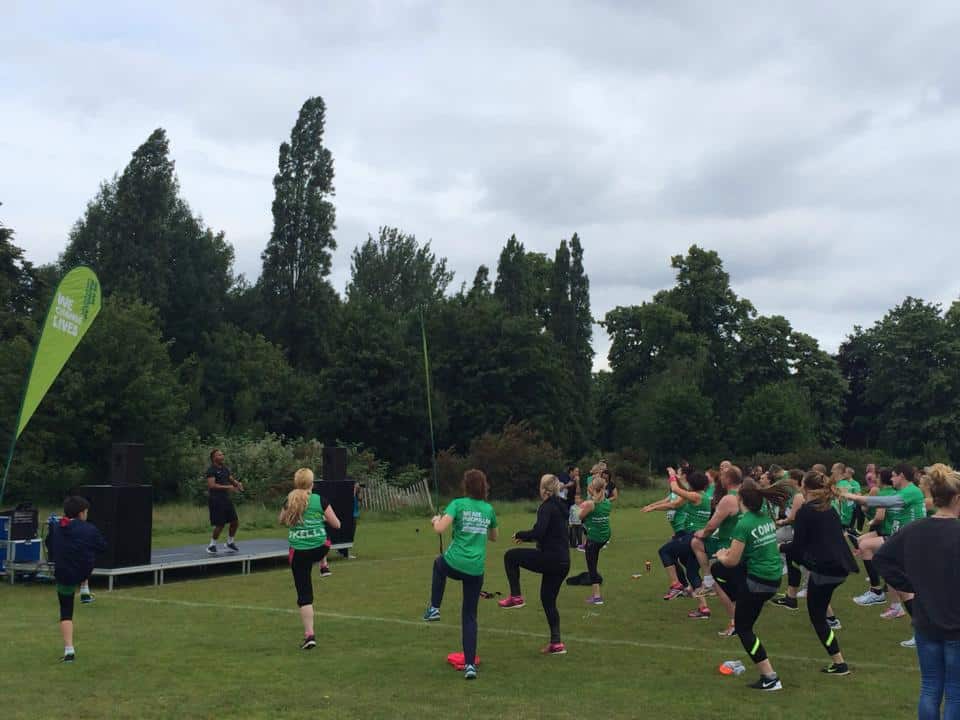 We can provide outdoor stages for festivals, fun runs, charity events as well as sports events. Stages with roof covers and sides are available to protect you from the weather. Sound and lighting systems can also be supplied, as well as generators for outdoor use. Platforms come in various heights with steps for easy access. All our stages are kept clean and smart for your event.
Add sound and lighting to your hire for the full production package.
Accessible Viewing Platforms
Make sure your event is memorable for everyone!
"Viewing platforms improve the experience of watching live music for Deaf and disabled customers. Venues that do not provide viewing areas may find it impossible to provide a view of the event with uncompromised sightlines. As disabled customers pay the same price for their tickets as non-disabled customers, under the Equality Act venues must provide everybody with an equal experience".
We build disabled, accessible, wheelchair user friendly platforms. We also install ramps, handrails and barriers to ensure safe and enjoyable views at your event. Contact us for more information on sizes and costs.
Weddings
We are pleased to offer staging for weddings across Essex, Suffolk, London and Hertfordshire. Our stages are available in any size and for indoor use we generally recommend them at 1ft or 300mm high. This is the finished height and is just a small step up onto the stage. Platforms can be any height but are usually restricted because of the height of a roof. We can supply platforms up to 2M high. They are often used for top tables or for ceremonies during the day. They can be used for evening entertainment, for a band or DJ, for instance.
If you have a wedding planner or decoration company, we are able to provide a plain stage. The picture on the right shows a 6M x 4M stage which was supplied plain with no carpet or skirting. The decoration company later finished the stage with carpet, skirting, chairs and backdrops for this wedding. This stage was delivered and setup at Boreham House.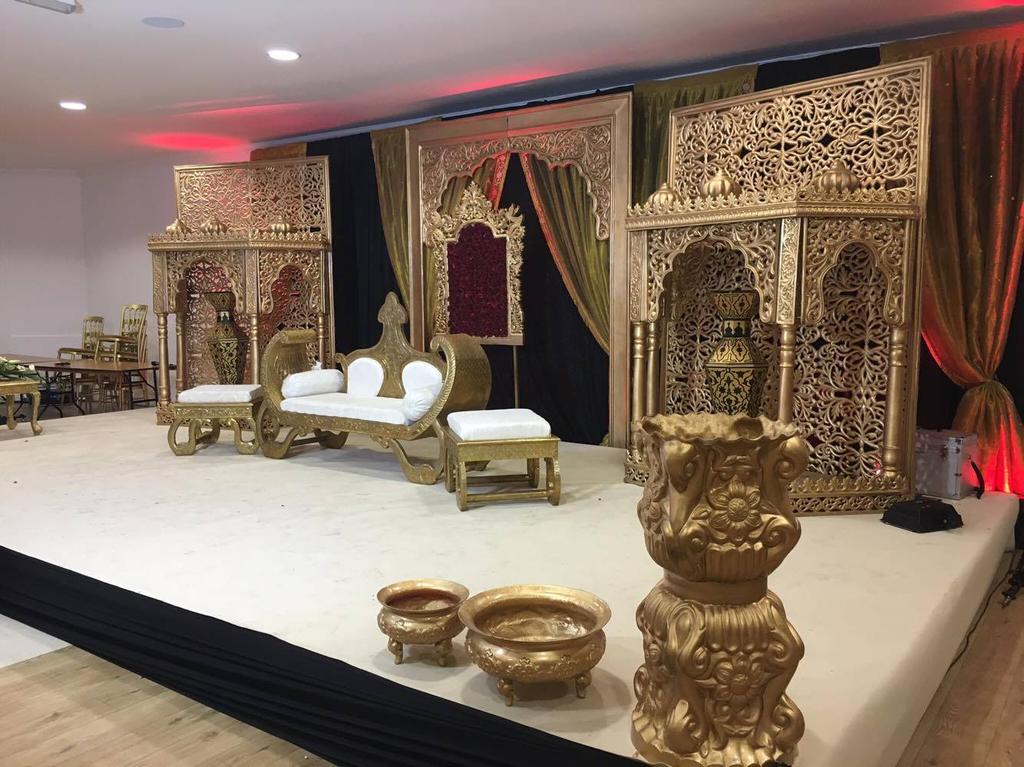 Corporate Events
Our stages are also great for corporate events. They can be used for presentations, training, awards ceremonies and other events. Shown on the left at Wivenhoe House, Colchester, Essex, is a stage complete with our Robe décor lights. We can supply stages with sound, lighting and audio visual equipment. If you are looking for full production for an event, then try this page or contact us for more information.
We can supply carpet in a variety of colours. White is popular for weddings and grey is popular for corporate events. Carpet can be almost any colour to suit your event or brand. We keep a large stock of carpet for any last minute requirements.
We are very proud to be recommended by some fantastic local venues. These include Hylands House, Wivenhoe House Hotel, Three Rivers Golf and Country Club and Osea Island, all across Essex.
If you are having an event and would like a stage, but not sure what size you need then just call. We can advise on the amount of space you will need for your event.